Laura Cook-Newman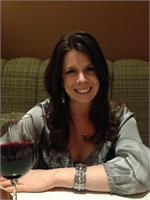 Hi – I'm Laura!
Right around the time when MC Hammer was urging us to "Turn this Mutha Out", I was bitten by the fitness bug and have been an AFAA certified instructor since 1993. I am also a certified Sports Nutrition Consultant!
Now this "mutha" balances family, friends, and a busy gig as a traveling chef with my continuously growing love of being strong, sexy, centered, and healthy.
Want to run your first 5K? Want to drop some lbs? Want to develop some definition in your triceps? Want to get some Zen? Or do you just want to dance like nobody's watching? Yeah, me too. And guess what? We're gonna do it…ALL!
Then we're going to collapse in a sweaty mess, throw on some yoga pants, and go celebrate ourselves with a glass of wine – because life is all about balance. Cheers!
Laura Cook-Newman instructs the following:
Ditch the workout and join the party! A fun and easy to follow fusion of Latin dance and fitness that combines high-energy and motivating music with unique moves and combinations that make you feel like you are partying on the dance floor. All levels and ages welcome (those under 10 must be accompanied by an adult)!




Work your muscles in every way possible in this class designed to build strength, add definition, increase your bone density, and decrease your body fat by increasing your lean muscle. Research has proven that by adding lean muscle to the body you can speed up your metabolism and burn more calories when you work out and at rest. You will use hand weights, plate loaded barbells, tubing and your own body weight to change the shape of your body. No muscle gets neglected in this class!