Julie Uhlen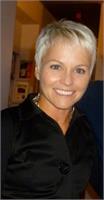 Hi! I'm Julie!
Having been down the weight-loss road myself, I understand intimately the challenges and difficulties faced in achieving fitness goals.
As a mother, fitness fanatic and former schoolteacher in Australia, I decided in 2014 that I should explore fitness as a new profession. It has been an eye-opening, hugely enjoyable experience! I'm now an ACE certified personal trainer and also hold certifications for ViPR and Kickboxing. I'm a total endorphins junkie!
My philosophy is fitness should be fun. I'm a true people-person and really am excited to be able to share my love of exercise and fitness with others, as well as help them reach their fitness goals. You'll leave my class exhausted but with a smile!
My hobbies include hiking, traveling and spending time with people I love. I live in Highlands Ranch with my husband, son and our dog Pearl.
Julie Uhlen instructs the following:
A fat blasting High Intensity Interval Training metabolic boosting workout. Be prepared to dig deep and sweat! Cardio cardio cardio! Did we say cardio?




The Core Prescription! Sculpt and challenge your body with CORE-RX, a class that combines exercises and core movements like no other. In this class, we focus on honing our core strength using the TRX suspension straps, body weight, Bosus, sandbells, ViPR's, Bender balls, dumbbells and bands.

This class will hit you like no other, as the emphasis is on strengthening the core and toning the body and less on cardio. If you want LEAN & MEAN, this is it!!




HOT!!! Half High Intensity Intervals (HIIT) and half CORE RX exercises. Shock your system through interval training to burn fat and gain cardiovascular improvements. Then fine tune your core using the TRX suspension straps, body weight, Bosus, sandbells, ViPR's, Bender balls, dumbbells and bands. Half and Half....WOW.






The focus of this classes making your body move in the manner in which it was designed to move. Fun and challenging movement patterns utilizing miscellaneous tools like ViPRs, Sandbells, and TRX suspension trainers, get your body to the next level that traditional training methods do not.




On the second Sunday of the month, join us at InFit for our special $7 Sunday Special. Each month will feature a different class format. Please visit our facebook page or view the line up on the front page of our website. Each month will continue to be different and it is ONLY $7! It is our Sunday $7 Special!

September 10 POUND with Kris

October 15 STRONG with Laura W.

November 12 ENDURANCE HIIT wit Julie

December 10 80s ZUMBA with Laura N.