Tiffany Bucknam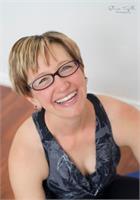 Hi I'm Tiffany and I want to help you find your spark!
I teach out of a desire to share the joy I experience in my own training. Several years ago, I was obese and desperately unhappy. I walked into my first Zumba class and slowly developed a fitness routine that has enabled me to rebuild my body and enjoy my life in a way that I never imagined that I could.
I have studied Yoga for most of my adult life and my practice is deeply meaningful to me. I'm also a Social Worker and a mom of two. I have learned many, many things in my journeys and am passionate about supporting others as they work to keep their whole beings healthy. I believe that wellness is available to everyone regardless of our personal limitations and that joy is the birthright of every human soul. That we are all capable of changing our habits and building lifestyles that nourish our bodies and minds, and that we do this best by working together.
I am certified as a group exercise instructor, personal trainer, ViPR personal trainer, and Hatha Yoga instructor. I am also a licensed and experienced Zumba instructor and a TRX group exercise instructor. I strive to make my classes accessible to EVERY body, especially ones that have limitations due to injury, illness, or fear. Come play!
Tiffany Bucknam instructs the following:
Work your muscles in every way possible in this class designed to build strength, add definition, increase your bone density, and decrease your body fat by increasing your lean muscle. Research has proven that by adding lean muscle to the body you can speed up your metabolism and burn more calories when you work out and at rest. You will use hand weights, plate loaded barbells, tubing and your own body weight to change the shape of your body. No muscle gets neglected in this class!




This is no dance class! Get ready to work your booty off in this amazing, music led, high intensity interval training (HIIT) class with a Zumba twist. Unlike other time based HIIT classes, STRONG by Zumba is High Intensity Interval Tempo Training Zumba (HIITTZ) Style! Using only body weight exercises, this functional workout is choreographed Z-Quences executed in sync with the music, which is like no other. Participants will reap cardiovascular benefits, muscle conditioning, and metabolic boosts from this 55 minute class. All are welcome but we are not going to lie, this is a killer workout!

Please note that this class is not included in the Zumba Only Unlimited Membership or Punch Card.




Ditch the workout and join the party! A fun and easy to follow fusion of Latin dance and fitness that combines high-energy and motivating music with unique moves and combinations that make you feel like you are partying on the dance floor. All levels and ages welcome (those under 10 must be accompanied by an adult)!




Join Tiffany Bucknam for an afternoon of restoration and self-care! 2 hours of self myofacial release, stretching, and gentle movement. This workshop will incorporate Tiffany's recent study of neuroplasticity with some of our previous work with foam rolling, stretching, and corrective movement so that you leave feeling relaxed, renewed, and ready to roll into your next week!


If you have a foam roller, please bring it; InFit has a limited number we can provide. Come dressed in soft clothes in which you move easily, ideally in layers because we feel warm when we roll and cool when we stretch and relax. Plan to be in socks during the class, and have a water bottle with you. Mats are provided at the studio, but if you are welcome to bring your own if you prefer.

SPACE IS LIMITED SO RESERVE YOUR SPOT in ADVANCE!

InFit Members $15, Punchcard holders and PranaTonic members $20, NON members $25.